Candy Buffet Rental
For great prices, services, and ideas…Sugar City Treats is your one stop shop For Candy Buffet rental in Miami or Broward. Please contact us and let us do the work for you. When searching for candy buffet rentals of jars, serving plates, chocolate fountains, drink dispensers, etc, it would help to have a reliable company to turn to.
Provide us with the details of your event like:
Type of event (wedding, birthday party, baby shower, etc)

Date, Time, and Location
Number of Guests
Colors and Theme for your Candy Buffet Rental
Contact Info for your Event Planner (if you have one, we will work with them on placement, linens, tables, centerpiece addition to candy display, setup time, etc)
Phone: 305-322-6159
Email: info@sugarcitytreats.com
Facebook: www.facebook.com/sugarcitytreats
Instagram: @sugarcitytreats
Twitter: @SugarCityTreats

No Fields Found.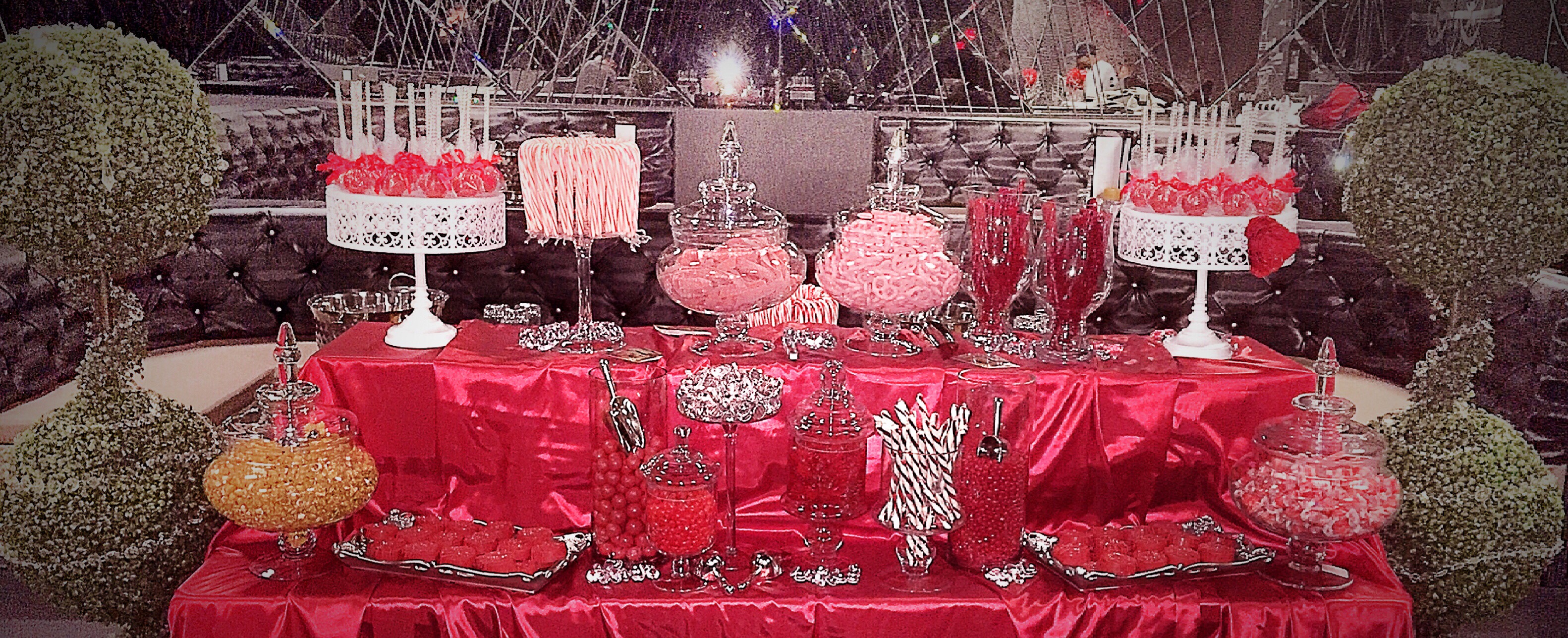 Terms and Conditions
DEPOSITS: All events and candy buffet rental require a 50% deposit which is due upon invoicing in order to secure the date. The remaining balance is due no later than 15 days prior to the event. Booking on short notice will require a 100% deposit upon invoice if the event date is available. Since all candy and dessert items are purchased and made fresh for each event, deposits are required to be paid in full in advance of the event date.
CANCELLATIONS by Client: In the event of a cancellation for any reason other than immediate family death all payments made to date are non-refundable.
DATE CHANGES: In the event the client is forced to change the date of the event every effort will be made by Sugar City Treats to transfer location reservations and sub contractors to support the new date. The client agrees that in the event of a date change any expenses including but not limited to deposits and fees that are non-refundable and non-transferable are the sole responsibility of the client. The client further understands that last minute changes can impact the quality of the event and that SUGAR CITY TREATS is not responsible for these compromises in quality. Sugar City Treats will not be responsible for any weather damages (winds, rains, heat, cold) to decorations set up indoor/outdoors.
Decorations include: Flowers, Lighting, Balloon Arches, Balloon Columns, Light weight decorations, Helium/air blown balloons, Table decorations, Signage (pictures, posters, foam cutouts, paper products, banners etc.), and Fabric draping.
ELECTRICITY: It is the client's responsibility to provide us with electricity. In the event sufficient electricity is not available, we suggest that you rent a generator. We can provide generators for an additional $50.00 each. If you require a generator, we must be notified at least 48 hours before the event. In the unfortunate event power is not available full payment is still due.
ANY DAMAGES TO RENTAL EQUIPMENT WILL BE CHARGED TO THE CLIENT ABOVE AS REGULAR PURCHASE PRICE AND IS DUE IMMEDIATELY.
All major Credit Cards are accepted. Make all checks payable to Sugar City Treats. If you have any questions concerning this invoice, contact us @ 305-322-6159 THANK YOU FOR YOUR BUSINESS! Please like our Facebook Page. Check other Candy Buffet Rentals and Ideas on our page.